Why choose Electro Freeze? Because Electro Freeze pioneered the pressurized soft serve machines that built an entire industry. And today, in businesses across America, you will find our durable, dependable machines producing consistently high quality and appealing treats.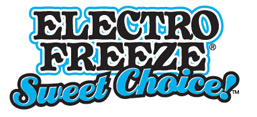 Why are so many businesses choosing Electro Freeze? With over 40 models of frozen treat equipment to choose from, you're sure to find a model to meet your needs: one that's easy to use, easy to maintain, and even easier to turn into profits. All Electro Freeze equipment comes with the knowledge, responsive service, and local support of our national network of distributors. Add up all Electro Freeze has to offer and two words come to mind: SWEET CHOICE!
Soft-serve and yogurt business
Imagine earning profit margins of up to 80% per serving of soft serve ice cream, yogurt, shakes, slushes, Italian ice, frozen cocktails and more!
Frozen treats made with Electro Freeze machines satisfy more than just your customers — the income will please you! Electro Freeze machines are highly profitable and offer convenience, speed and a consistent, quality product. Dependable and energy efficient, our machines are easy to operate, and simple to clean and maintain.
Reward yourself with the sweet taste of success by adding Electro Freeze to your business. Your customers will return for more, and your profits will be extremely satisfying.
Email us to learn more about getting started on the road to Sweet Success!
Refrigeration
Whether you're starting from the ground up, remodeling or upgrading your refrigeration equipment, we can help you design a system that's customized to fit your product, your location and your needs.
You'll find our equipment is reliable, efficient and made to last. Installation is always done by certified technicians, who regularly attend continuing education and new product seminars.